Website design is all about blending visual beauty with usability and Flash is the ideal software for this purpose. With the help of Flash web design, you can add life to web pages and provide interactive user experience to the target audience. Depending on your requirements, you can either build a site entirely on Flash or insert some dynamic content in a few places to make sure SERP ranking of your website does not get hurt. An entirely dynamic site is not searchable by Google and hence, it's better to use this dynamic technology in only the necessary places, for specific purposes.
The popularity of Flash proves its acceptance among designers and web users. It's easy to understand why viewers love an animated site because the content looks far more interesting than any static site, but have you ever wondered what benefits developers enjoy by employing Flash in website design?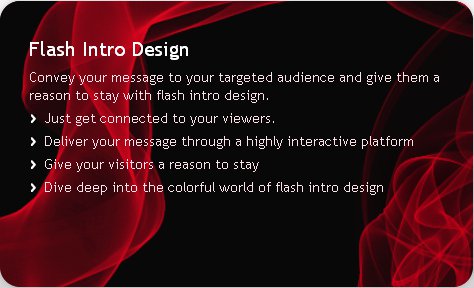 Make a website attractive: Gone are the days of HTML based text websites. Flash web design looks attractive and can convey important messages visually to the target audience. You can add videos, animated slideshows and other dynamic content for effortless communication. The interactive elements decrease bounce rate and encourage visitors to explore all the sub pages.
Use it as an education medium: If you want to build an educational site, it is the biggest weapon in your arsenal. For example, you can add a tutorial video on the "courses" page to generate interest among the target audience. Since Flash video can be viewed from any desktop/laptop computer, people around the world will understand the value of your educational content and subscribe for the full course after watching the video.
More information in less time: Suppose you are developing a website for music lovers and want to sell the latest MP3s at minimal cost. These days, people don't like to buy music because free music is illegally available online. To lure customers, you can add a dynamic slideshow of the latest albums and install a dynamic music player to increase conversion rate.
Inexpensive: Developing a Flash website is very cost effective. As long as you know coding, it should not be a problem to develop a dynamic website.
Dynamic yet SEO friendly: If you use animated elements in certain parts of the website, along with HTML content, the site will look beautiful and Google will also be able to scan it. Thus, your site will be able to enjoy top spot on SERPs and users will love it for the dynamic elements.
Flash web design can be viewed using any computer browser. So, you can reach the maximum number of web users all over the world. Due to these benefits, web designers and developers prefer this technology for website design.