Banners are popular advertising tools used by companies to promote their products and services. The ad campaign of your company becomes worthwhile only when your banner design is successful in propagating your product and service information to your potential customers, and is capable of generating traffic to your site.
To ensure that your banner is engrossing and compels visitors to click on them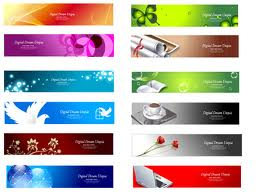 for further details, you must design them attractively. You may even attempt to hike sales by making use of  an innovative Flash banner design.
 Creative Flash design can be used to generate ads that are not only informative but also visually captivating. Here's how:
 Making Use of Bright Colours: While designing, keep in mind the specific market segment the product or service is targeting. The use of bright colours is preferred as it attracts both the old and the young. Attempt to add a colour scheme that is neither too Flashy nor too dull; it should be soothing and capable of getting noticed.
 Avoid making your design clumsy. Clumsiness in design will not only confuse your audience but may even force them to ignore your ad. Avoid too many elements graphical or animated elements in your ad. Use minimalist yet innovative approach to create a design that is simple yet fetching.
 Adding Interesting Flash Animation: Flash is highly interactive and Flash animation can be both thought-provoking and value-oriented. Make sure you add the vital product details and company related information in the banner to encourage potential customers to invest time and money on your site. However, avoid heavy animation as that will increase the loading time, and give way to prolonged looping.

Adding Catchy One-Liners and Other Text: One-liners play a crucial role in online advertisement. Add a fetching one-liner text in your banner advertisement to attract visitors.
 Additionally, the other text you add in your banner should be well readable and comprehensible. Adding a text which has elaborate meaning or whose fonts are insignificant, will not generate the desired effect. You should also avoid colour contrasts that are too flamboyant or loud. Instead make use of background and text colours that are soothing and pleasing to the eyes.
One Response to "Creating Stunning Flash Banners to Hike Sales!"