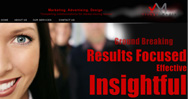 Flash based technology is highly used for enhancing the interactivity of a site. It is kind of a multimedia platform with which an expert can create magic on the pages of a website. Mainly used for creating integrated video, advertisement, animations and web components.
Nowadays most of the web browsers are compatible to view flash based web sites. Many mobile phones also support this application. The flash template designs have become very popular and are widely used by the designers for some advantages.
Accessibility: The flash templates can be viewed with a variety of devices and also through many systems like Solaris, Windows, Pocket PC, Linux etc. A number of output devices also support its accessibility.
Plug in and Format: The flash player takes very little memory for its installation. This is considered an advantage compared to other plug-ins like Acrobat Reader and Java. Compared to video clips, the vector graphics teamed with programming code takes smaller memory.
Widely Used: Even the open source projects use the flash templates. Flash templates are simply used to enhance the look and feel of the ordinary sites giving it a professional look. SWF files can also be created with this application. These SWF files are used for converting the text files to graphics.
The flash templates are easy to design and the application is quite user friendly. This application is widely preferred by the designers who use them to create a flash based environment to their site. If you are looking for efficient flash designers to change the appearance of your site or develop a completely new site with flash based application, you can contact us. We are Flash Design India – a reputed company offering affordable flash web design services. Get fresh and unique flash web templates for your sites.