The first half of 2013 is over and like every year, several web design trends flooded the web world this year as well. Website design trends help us understand what designers are thinking nowadays and where technology is going. Here, in this article, I will highlight some of the most popular website design trends of 2013. Some of them you must have noticed while surfing the web and some will become more famous in the coming months.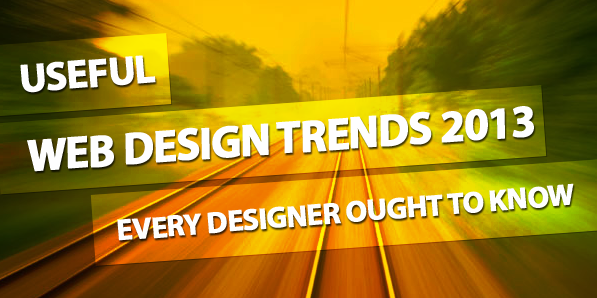 Responsive layout: Is it a completely new trend? Not really. Responsive websites have become popular for the past 2-3 years but this year, the trend is omnipresent. Designers have realized that they need to create layouts that can fit the screen size of any internet-enabled device.
Retina screen support: Since the launch of iPhone 4, retina screen became a rage in the market and its jaw dropping resolution compelled designers to think differently. Retina screens offer double density of any normal LCD which prompted designers to create the layouts in such a way that they could support the richness of iPhone, iPad and MacBook.
Fixed headers: This is a really user-friendly trend which can be done by simply making a few changes in CSS file. In a fixed header website, when you scroll down, the header remains constantly visible with all the navigation links. Fixed headers can be used in any type of professional or personal website because it increases usability.
Background features a large photo: It's a quite useful design technique for any graphic artist or photographer's portfolio site. Large photographs can be used in the background of other sites as well. There are two advantages of using it. First, it immediately captures visitors' attention and second, it works as a promotional tool.
Minimalism (for landing pages): Minimalism is not a new trend. Agreed! However, this year, web design artists are using minimalism for "landing page". The landing page of a website helps you capture leads and encourage users to take an action. A minimalistic landing page helps customers focus on the product/service you are selling, not the colors or fonts used on the page.
Digital QR codes: This trend is going to take momentum in the coming months. Right now, only a handful of websites have adopted this unique concept. QR codes are generally printed on paper but seeing the growth of QR scanning apps, some website owners have decided to incorporate it in their sites in digital format.
Vertical navigation: Love it or hate it, this trend is becoming more popular with every passing year. You have to use vertical navigation intelligently to maintain the usability of the website, because not many people have seen or used it. With the blend of dynamic content, vertical navigation can add elegance to a website.
 So, now you know the 7 most unique web design trends of 2013. Have you noticed something different this year? Something which I didn't mention in this list? Which new and upcoming trend you liked the most? Share your thoughts.